View Hindu Newspaper Advertising Rates
USPs :

Among top 5 English Newspapers

Massive readership of 22.6L
Trusted Brand
Circulation of 1.17m
USPs :

Among top 5 English Newspapers

Massive readership of 22.6L
Trusted Brand
Circulation of 1.17m
Select your specific Supplement and City to get the lowest rates
Category :
Main Newspaper
Publishing Day :
All Days
Advertising in The Hindu to promote your brand is the most viable option across the entire South India, be it retail, sports, business, fashion or personal messages like Obituary and remembrance ads. Publish your display ads instantly online in the Hindu, in your favourite.
---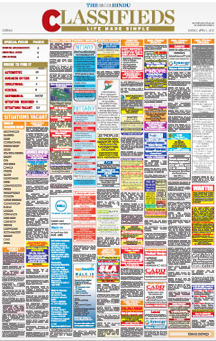 Category :
Classifieds Supplement
Publishing Day :
All Days
Hindu Classified Ads is cost effective and ideal platform to advertise on for Matrimonial,Property,Obituary, Recruitment, Education,etc type customers. Ad cost is calculated based on the number of lines used.
---
Category :
Appointment
Publishing Day :
Wednesday
To be the professional guide to millions of career and job seekers across the country, all you need is the appropriate platform. Use 'Opportunities', the career pullout of The Hindu as the platform to turn the dream of job seekers into reality and to receive the best candidates for companies!!!
---
Category :
Education
Publishing Day :
All Days
Education, the most important thing in a youngster's life!! Publicize your Education institutes to broaden their opportunities for a better educational experience with Display Ads in The Edge!!
---
Category :
Property
Publishing Day :
Saturday
Feature Rent, Land or Property for Sale ads in Hindu Property Plus , Habitat Supplement! Reach out to the most relevant buyers in Chennai, Coimbatore & rest of South India!
---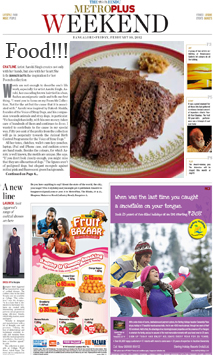 Category :
Others1
Publishing Day :
All Days
Get to know your metro better. Depict and inform the larger than life experience of a metropolitan by publishing your ad in Metro Plus. The entertainment page is the most widely read page of every newspaper!!! Grab the reader's attention here!!
---
Category :
Others2
Publishing Day :
Friday
Friday Review is a popular local news supplement of The Hindu published only on Fridays. Get the attention of your target audience in your targeted area by placing your ad in this pullout. Gives you the opportunity to gain access to specific people of specific communities in specific cities!!
---
Category :
Obituary
Publishing Day :
All Days
---
Category :
Public Notice And Tenders
Publishing Day :
All Days
As the name suggests, you can publish any Notice ad or tender quotations through 'Public Notice & Tenders' pullout of The Hindu for the maximum relevant responses.
---
About
Hindu in the News
FAQ
About
Publish Display ads in The Hindu, the most well-known and respected Chennai based newspaper circulated in more than 10 cities at an affordable price .It's widely read supplements are also available for advertising, thus as an advertiser you can choose the appropriate category for reaching out to a large audience. Make use of our online system interface to publish your ads instantly and easily. The different supplements of the Hindu display advertising section are mentioned here for your convenience:
Empower– Designed especially for Recruiters and consultancies looking for potential job aspirants.
Education Plus- An ideal communicative platform for education institutes and academic centres who intend to make their name flourish in the education sector
Metro plus Weekend- It is aimed at Fashionistas and the elite moneyed class who prefer to stay updated about the latest fashion trends and lifestyle developments making it an ideal platform for jewellery, cosmetics and high brand advertisements
Habitat –It is intended to help Real Estate developers, agents and property brokers to reach out to their target customers
Metro Plus- This is targeted to all the local dwellers of the city who want to know the ins and outs of all the events happening in their city and is published in daily, hence an ideal mode of mass communication through creative display advertisements from any category
Friday Review-This is designed especially for all the creative folks who have a fascination towards art, Culture, Dance and music making it the perfect stage for communicating and convincing the upper strata of the Indian society through advertisements
We also enable and assist our advertisers in publishing Obituary/ Personal display ads in the main newspaper. Book your display ads in The Hindu with us in an instant!
Hindu in the News
FAQ