Book your Friday Review Ads with Hindu Instantly Online
Friday Review is a popular local news supplement of The Hindu published only on Fridays. Get the attention of your target audience in your targeted area by placing your Retail ad in this pullout. Gives you the opportunity to gain access to specific people of specific zones in specific cities!!
PUBLISHING DAYS
Booking Deadline
Minimum Size
PUBLISHING DAYS
Minimum Size
Where is Friday Review published from ?
LOCATIONS
---
Innovation Option
ADVERTISING INNOVATIONS
---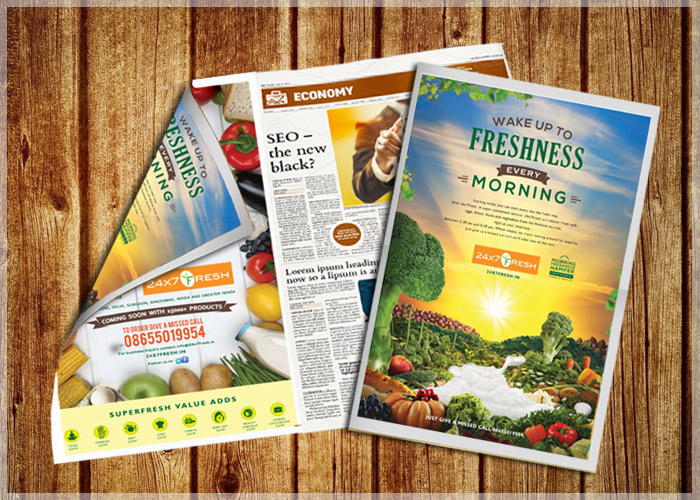 Jacket Full Page Ad
33cm x 52cm
These display ads are placed on the Front Page of the newspaper on both the sides. They are available in the dimensions of 33 cm X 48cm
Half jackets Ad
16.5cm x 52cm
These display ads appear on half of the front page in a newspaper. Half-Jacket ads are available in 16.5 cm X 52 cm dimensions.
Book Mark Ad
3cm x 52cm
Bookmark ads peek out of the newspapers just like a normal bookmark marking the page where your ad has appeared. You can choose to book a full/half-page ad in this case.
Pointers Ad
4cm x 5 cm
Pointer ad appears on the left-most column of the main page. This small ad appears in 4 cm X 5 cm size.
SkyBus Ad
33cm X 5cm
These ads materialize under the masthead of the newspaper in the main page and are 33 cm in length and 5cm in width
Advertorial Ad
Any Size
Publish an article about your product / service - to be placed alongside regular editorial content. You get to choose your headline, text & visuals.
Why advertise in Friday Review ?
WHY ADVERTISE IN
Hindu Friday Review

?
---
The Friday Review is a unique and very finely curated weekly pullout of The Hindu. The Film reviews , Art and Theatre Criticisms and articles on Socio-Cultural issues published in this section are highly revered by Art and Literature enthusiasts throughout India. So If you are striving to reach out to a niche audience with refined taste in Movies, Music , Books, Handicrafts or simply Art in General ,look no further than here.Here are some sure benefits of advertising in the Friday Review:
The Friday Review enjoys an extremely loyal readership which eagerly awaits the novel and insightful articles penned by industry experts every week .Thus this pullout is perfect for publishing Display Ads that cater to a very specific set of audience at highly cost effective rates.
With Newer forms of entertainment and art performances like Standup Comedy , Spoken Word Poetry, Interactive theatre developing and the audience for the traditional ones like music recitals, musical dramas and art exhibits widening the need for an appropriate and specialized advertising platform is fulfilled by the Friday Review.
Pointers To Maximize Your Friday Review Ad Efficiency
The following three tips will help you create your display ad hassle free:-
Ad Type: Friday Review only accommodates display advertising for higher and distinct attention seeking.
Focus Day: As the name suggests, this Hindu Friday Review pullout is published every week on a Friday.The booking must be done atleast 2 days prior to the publishing day.
Ad design: There's no bar on your creativity for designing your display ad . However, a minimum size specification of 4cm(width) has to be maintained. You are free to customize the height of the ad upto 52cm.
The Hindu being one the best English dailies of the country is also the best for Display advertising. It is published across 18 locations including the whole state of Andhra Pradesh which also showcases its popularity amidst the educated sector of the South Indian region of India. Headquartered at Chennai, it is highly popular across the whole of India.