Book your Metro Plus Ads with Hindu Instantly Online
Get to know your metro better. Depict and inform the larger than life experience of a metropolitan by publishing your ad in Metro Plus. The entertainment page is the most widely read page of every newspaper! Be it fashion, food, travel, entertainment updates, all is to be found in this pullout of the Hindu newspaper. This pullout is the most vibrant and intriguing media space one can choose to advertise their business, commercial, education and other ads effectively. Advertise here any day in a week to grab the reader's attention!
PUBLISHING DAYS
Booking Deadline
Minimum Size
PUBLISHING DAYS
Minimum Size
Where is Metro Plus published from ?
LOCATIONS
---
Innovation Option
ADVERTISING INNOVATIONS
---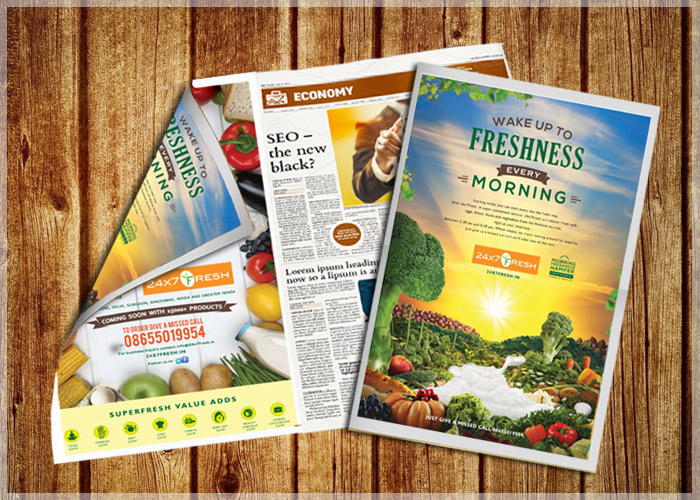 Jacket Full Page Ad
33cm x 52cm
These display ads are placed on the Front Page of the newspaper on both the sides. They are available in the dimensions of 33 cm X 48cm
Half jackets Ad
16.5cm x 52cm
These display ads appear on half of the front page in a newspaper. Half-Jacket ads are available in 16.5 cm X 52 cm dimensions.
Book Mark Ad
3cm x 52cm
Bookmark ads peek out of the newspapers just like a normal bookmark marking the page where your ad has appeared. You can choose to book a full/half-page ad in this case.
Pointers Ad
4cm x 5 cm
Pointer ad appears on the left-most column of the main page. This small ad appears in 4 cm X 5 cm size.
SkyBus Ad
33cm X 5cm
These ads materialize under the masthead of the newspaper in the main page and are 33 cm in length and 5cm in width
Advertorial Ad
Any Size
Publish an article about your product / service - to be placed alongside regular editorial content. You get to choose your headline, text & visuals.
Why advertise in Metro Plus ?
WHY ADVERTISE IN
Hindu Metro Plus

?
---
Everybody is as inquisitive about Local affairs as they are fond of keeping a tab on the Global scenario. People are constantly looking up the newest spots and latest events in their city, be it related to Fashion, Food , Lifestyle, Entertainment Or Even Technology.Therefore, having an ad platform committed to showcasing City News and having massive circulation figures like The Hindu Metro Plus is a great boon. Here's how:
Each city has its unique character and collection of brands, hangout spots and Entertainment Events. Keeping this in mind, Metro Plus has specific city editions covering nineteen distinct locations that cater to the advertising and readership needs of only that particular city where you reside.
Carrying celebrity interviews and page3 news, the entertainment supplement is the most sought after section of any newspaper. Hence, placing your display ad in this Hindu supplement that is printed everyday makes sure you promote your brand or upcoming event to a large number of enthusiastic readers and in the quickest time.
The variety of topics that Metro Plus Advertising covers is astonishing. From a special spread of exotic cuisine in your restaurant to a recital by your favourite musician to an opening performance by your drama group to a startup funding meet sponsored by your institution, the list is never ending.
Effective Ad Tips For Metro Plus Display Ad Booking
Ad Type: Display ads help you make your mark and garner more attention, especially when it's a competitive platform dedicated to only local businesses and events. Metro plus therefore, carries only Display advertisements.
Focus Day: The best thing about this Hindu pullout is its Daily publication. You have the choice of placing your display ad in Metro plus on any or all of the seven days. It should be noted that the booking of your advertisement needs to be made atleast 2 days prior to the publishing day.
Ad Design: You can opt to be as creative and unique as you like in creating your Metro Plus Ad design with just one necessary requirement that the ad size be minimum 5cm(width) X 6cm(height).
Make yourself Visible in your city and give your brand, business or event the most effective promotional boost with display advertisement in Metro Plus.